1. John Bowen's Builder's Yard in George St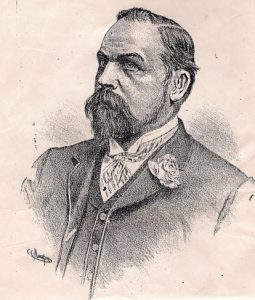 John Bowen was born in 1844 at Rochford, near Tenbury, the son of a blacksmith. At the age of 23 he walked into Birmingham  and started working as a carpenter. Around 1871 he came to Balsall Heath and probably expanded his trade by building local houses. By 1875 he was sufficiently established to build himself a house and builder's yard near the top of Edward Road.
A great leap forward was made in 1880 when John Bowen bought more extensive premises in George Street, Balsall Heath for a sum of £2150. The site had previously been private swimming baths run by John Smith and his father since 1846. Now he had offices as well as a large joinery yard with scope for further development. His initials can still be seen in the terracotta gable.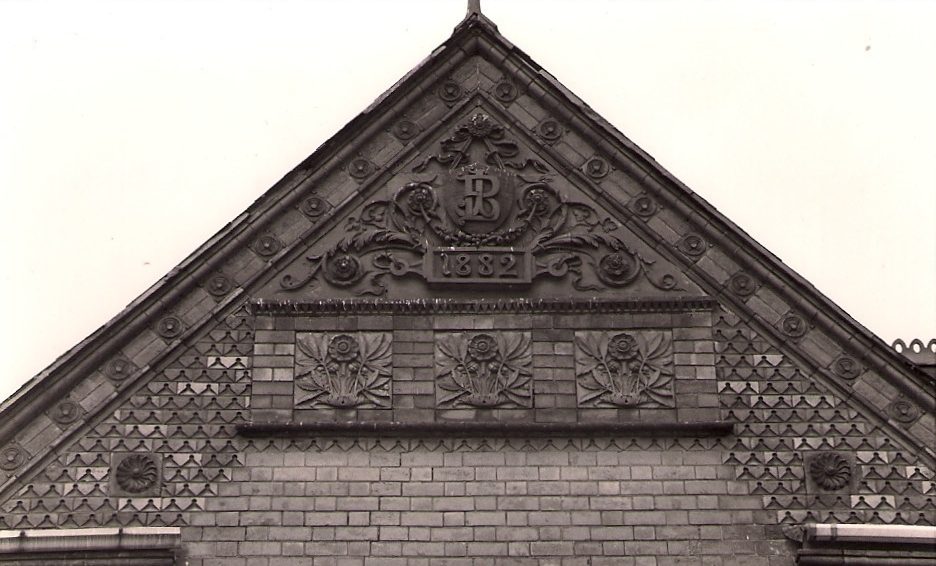 Soon after this he moved his family to a large new home at the corner of StrenshamHill and Edgbaston Lane, naming it "Rochford" after his birthplace. Unfortunately this has now been demolished.
His building trade boomed and in 1881 he won his largest contract so far- Monument Road Swimming Baths which cost £30,000. Other major Birmingham  contractsfollowed of which the most notable are the Victoria Law Courts which cost £113,353. Queen Victoria herself laid the foundation stone in 1887 and when they were finished were said to be the finest in the country.
Corporation Street was cut through under Chamberlain's slum clearance programmefrom1878 and continued for many years.  John Bowen built at least twelve large buildings here between 1886 and 1901.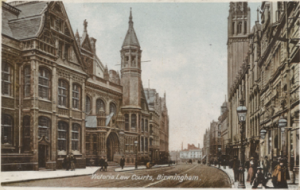 More locally John Bowen  was responsible for some of our treasured heritage buildings: The Moseley and Balsall Heath Institute ( 1882), St Agatha's Church,
Stratford Rd (1889),  The Mozart Works, Ombersley Road, now the Sultan Bahumosque, ( 1889), The Friend's Institute, Moseley Rd (1897), the Congregational  Church, Ladypool Road ( 1907) .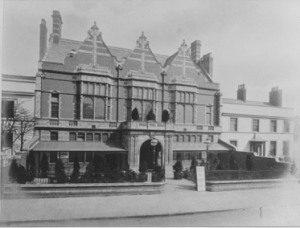 More large contracts followed including Hollymoor Asylum, Rubery ( 1900-05) costing £207,000  and Netherne Asylum near Croydon ( 1905-10) which cost £300,000.  By now his business had become John Bowen & Sons Ltd and John himself was moving towards retirement. The firm continued until 1963.
His position as a builder gained him recognition. In 1884 he became President of the Birmingham Master Builders Association and in 1894, President of the National Federation of Building Trade Employers.
His business success is, however, only part of the story. He also had a strong commitment to both charitable causes and public duties. He was elected to the Balsall Heath Board of Health in 1880 and gave many years service. In 1891 he was elected Alderman for the County of Worcester. Moseley at that time was still within that county. He was proud to be installed as High Sheriff of Worcestershire in 1916 and to be granted his own Coat of Arms.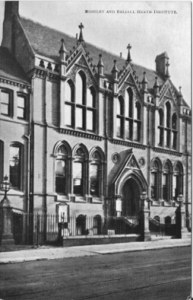 Back in Balsall Heath he was an active supporter and Trustee of the Moseley and Balsall Heath Institute, and gave generously to both Methodist and Anglican churches.
John Bowen died at the age of 81 in 1926. His grave is in Brandwood End Cemetery He left a huge legacy of glorious buildings for Birmingham and it is wonderful that his contribution to our city recognized in the Blue Plaque at Tindal School.