The play is now available to see on Youtube via this link:  https://youtu.be/mp6cm9oT99E
In the play we attempted to present conflicting opinions about the work of the Middlemore Homes – illustrating the desperate conditions which led to parents sending their children abroad as well as a glimpse of what happened to them in Canada. The outstanding feature of the play, however, was the music. Peter Churchill, Community Musician, has written some brilliant songs which are emotive, thought provoking and humorous.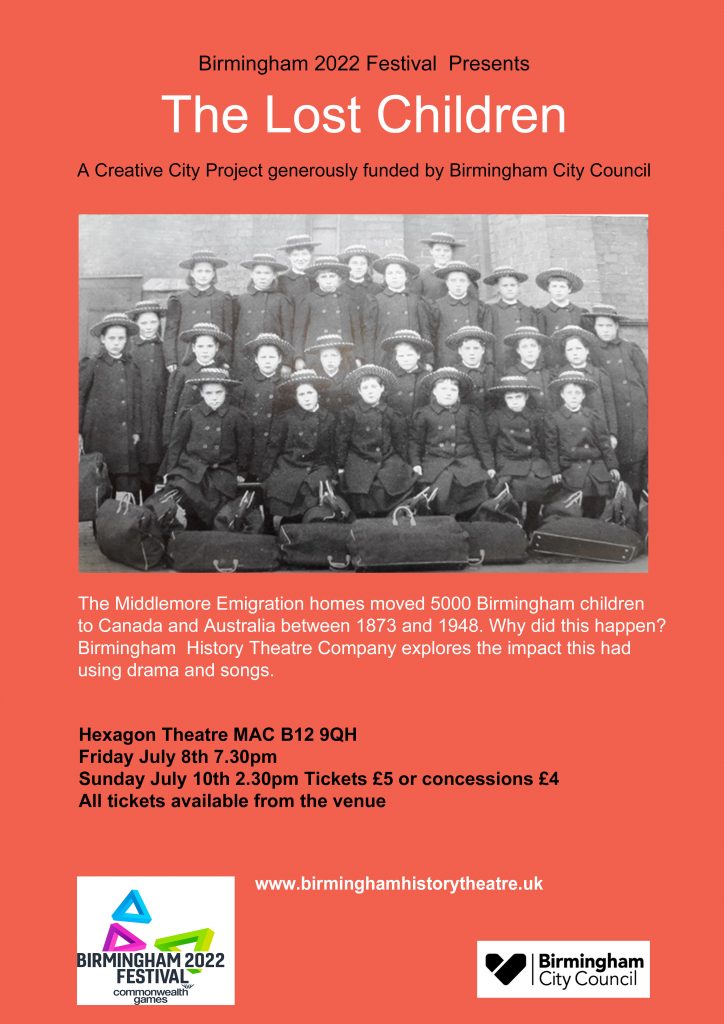 Reviews
*It was easily the best show that the Birmingham History Drama Group has performed. Peter Churchill's songs could easily grace the Westend or a musical film out of Hollywood. A.M.
*This is a story people should know about and is told here very well. H.O.
*Great production. So well thought out. I must say the final song bought a tear to my eye. P.R.G Creative   City Projects.
* It was heart breaking. No one talks about these 'Children in Need' Andy.
*Wonderful performances and the songs were great. Ceri.
*Really enjoyed very heart-warming and interesting to see an unknown bit of history. Nicky.
*Wonderfully produced, thought provoking even for us who know. P & J( Relative of emigrated child)
* Congratulations to all on a superb show.  I thought it was one of the best theatrical productions I've ever seen. Great music and songs, well sung. J.A.
*Moving, impressive performance with community heart. Anon.
*Very, very good totally memorable performance. Well done to everyone involved. Anon.
Very moving and a part of my family's history. Anon