Guru Gobind Singh Gurdwara
The Gurdwara was first founded in 37 Cannon Hill Road, a terraced house, in 1957. It moved to its present site in Mary Street in 1960 where it slowly expanded into the well-attended and cared for holy place of worship it is today. As the local Sikh population grew the Mary Street site proved too small. A second Gurdwara was opened next to the Library on Moseley Road in 1983. The organisers and religious leaders bought a completely dilapidated large house. Using their own labour and finance they renovated it. Now it performs the same function as the Mary Street Temple.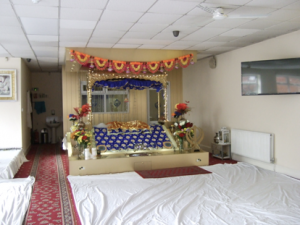 Sikhs are married there; the birth of children is celebrated and blessed; the dead are mourned. Over 200 men, women and children gather every Sunday to worship and pray. At the same time a large communal meal "Langar" is held. It is a social as well as religious occasion where all sit down as equals. Classes for children are held – at which  they learn respect for and details about their language, religion and cultural inheritance.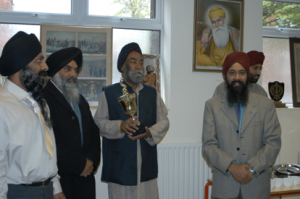 ___
THE SIKH RELIGION Sikhism emerged from Hinduism through the teachings of Guru (Prophet) Nanak Singh over 500 years ago. He preached that as one God made everyone, then everyone should serve and pray to that one God and not to other Gods or images. Sikhs believe that Guru Nanak was sent by God because at the time there were too many arguments about religion and people did not treat each other justly. Through him, Sikhs believe that God laid down a series of truths or commandments which are very similar to the 10 commandments of the Jewish and Christian faiths. 
Guru Nanak's teachings were written down in the Sikh equivalent of the Bible, the Guru Guranth Sahib. This book is read from at times of prayer. Since Guru Nanak's time, the Sikhs recognise 9 more Gurus whose teachings add to their religion. The 10th Guru, Gobinth Singh, gave his name to the faithful. Now all Sikhs have "Singh" as one of their names. He also asked people not to cut their hair, use a special comb, wear a turban and have a bangle on their right hand to remind the wearer to keep the faith. The Sikhs of today who live in Balsall Heath set a fine example of how to live devout and caring family lives.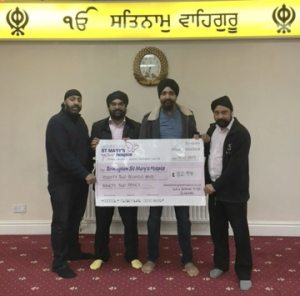 In 2017 the Mary St Gurdwara  contributed to the Big Brum Bucket Collection in aid of St Mary Hospice.
 The Sikhs have every reason to be proud of their efforts over the years. They have achieved a great deal. The Gurdwara represents a self-help, extended family which brings virtue to a much wider community